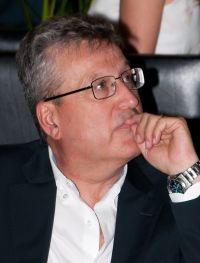 Experimental response of historic masonry under compression and shear loading: damage and strengthening with FRP
by
Roberto Capozucca
Structural Division DICEA, Faculty of Engineering,
Polytechnic University of Marche, Ancona, Italy
Professor Roberto Capozucca is full professor of Civil Structural Engineering. His main fields of research are: analysis and models of masonry structures, analysis of damage in reinforced concrete beams, composite materials and vibration control. He is the author of  160 scientific publications. Prof. Roberto Capozucca is a member of the Int. Council Research and Innovation in Building and Construction (CIB) as masonry structure expert Commission W023. He elected Convenor of Seismic Work Group since 2013 – CIB Commission W023. He was a member of scientific committees of Int. Conferences and an organizer of thematic sessions. He reviewed several papers for international scientific journals (Composite Structures, UK; Composite Part B: Engineering, UK; Construction and Building Materials, U.K.; ACI Structural Journal, USA; Engineering Structures, U.K.; Journal of Structural Engineering, USA; etc.) and he is an editorial board member of international scientific journals.